Nimz1466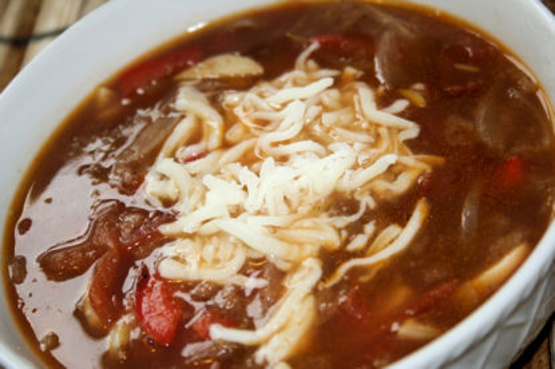 I first made this over twenty years ago--a Marian Morash recipe from the 1982 Victory Garden Cookbook. It was good then; it's good now. A Basque recipe, one can substitute chicken or vegetable stock for the beef stock.
2

cups sliced onions

1

cup sliced sweet pepper

3

tablespoons olive oil

3

cups tomatoes, ripe, peeled, seeded and sliced

2

cups beef stock

3 -4

slices dark bread, crusts removed
salt & freshly ground black pepper
Blanch the garlic in boiling water for thirty seconds; run under cold water and drain.
Peel and slice the cloves of garlic.
Cook the onions and peppers in the oil for ten minutes until the onions are golden and the peppers are soft.
Add the garlic and tomatoes.
Cover the pan and cook over low heat for thirty minutes.
Pour in the broth and bring to a boil.
Tear the bread into large pieces and add to the boiling soup where it will disintegrate and thicken the broth.
Adjust the amount of bread and broth to the desired thickness of the soup and salt and pepper to taste.
Serve hot with grated cheese if you wish.