Garlic Pepper Pork Skewers
vrvrvr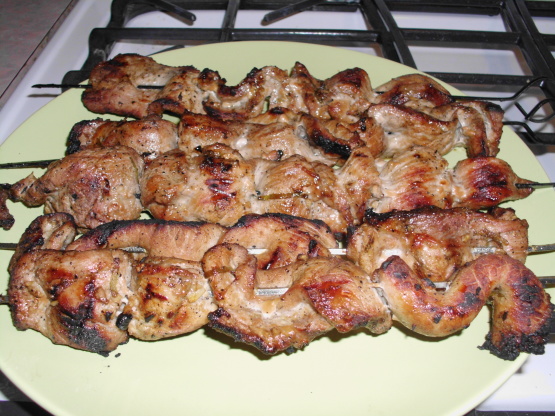 Ribbons of pork loin marinated in a kicky sweet sour sauce, skewered with green onions and quickly grilled. An easy do-ahead prep makes this dish ideal for a cookout without a lot of last minute fuss. Note: Minimum marinating time is included in prep time.

Delicious!!! Loved this flavorful marinade and the green onion added just the right touch of mild smokey onion flavor. It was a little more work making these skewers than I like, but well worth the effort. Thanks for posting this fantastic recipe!
Cut pork into 1/8-inch-thick strips; place in non reactive dish.
Prepare marinade : Combine all remaining ingredients except green onions in a small bowl.
Pour marinade over pork; cover and refrigerate at least 1 hour or overnight.
Thread pork slices ribbon style onto metal skewers (or bamboo skewers that have been soaked in water for 30 minutes), alternating pork with green onions.
At this point, skewers can be tightly covered and refrigerated until grilling time.
Grill over medium-hot heat about 3 minutes per side until no longer pink in center. Do not overcook.