mianbao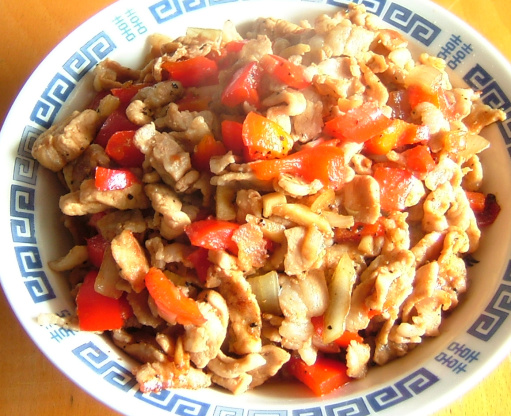 A recipe I have been developing that borrows heavily from Thai Style Pork in Black Pepper [moo Pat Prik Thai Dam], and is also influenced by a dish of the same name at the SALA Thai restaurant in OKC. It is surprisingly spicy, but not so much compared with some Thai foods. Do not omit or substitute any ingredients. The heat may be regulated by the amount of dried red and black pepper added, and can be adjusted at the very end of cooking, if need be. The fish sauce is very salty, so no additional salt is called for.

I made and enjoyed this pork dish, scaling it to half, using all of the ingredients faithfully. I did use a whole red bell pepper, both because I like vegetables, and don't like leftover halves or quarters of vegetables in the refrigerator. I used a whole red chili, but not as much black pepper, but did not find the pork too hot. I'm having a lot of trouble explaining why I don't feel this deserves 5 stars. It is good. But it seems to be missing something. I don't know what. Maybe some fresh coriander/cilantro, or some Thai basil. It's a nice recipe, but I do think it still needs a little work. Thank you for sharing this with us. I will also start experimenting, and will look for the dish on the menu at Thai restaurants.
Heat oil to medium-high; stir-fry garlic, dried chile, and pork, about 3-4 minutes until pork is nearly done.
Add onions, ginger, bell pepper, and stir-fry 3 minutes.
Add black pepper and remaining liquids and stir-fry another 1-2 minutes. Taste and adjust seasonings.
Serve over white rice.