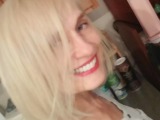 This is from the Frugal Gourmet cookbook. I've always counted on this recipe for a simple, yet fantastic, side pasta dish.
Directions
Thinly slice the garlic and saute in the olive oil until not quite browned.
Add the cream, tiny bit of salt, and ample pepper.
Simmer for a moment to reduce the cream.
Toss the cream with the hot pasta, just removed from the water.
Add lots of cheese and a parsley garnish.