loof751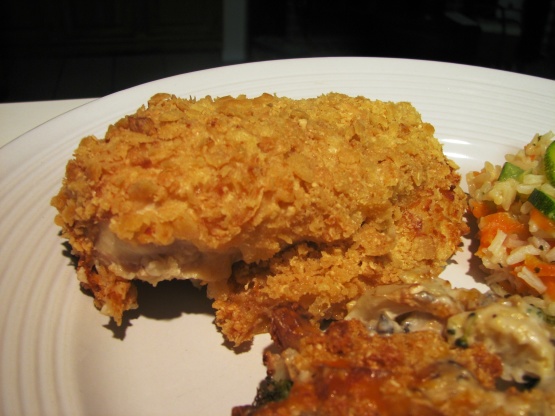 A buttery, garlic chicken that melts in your mouth and only takes minutes to prepare. I got this recipe from my mom and use it whenever I want to impress guests.

I was looking for a recipe that I had made many times before and this was the closest I could find. I subbed seasoned bread crumbs for cracker crumbs and did not cook it nearly as long only about 40 minutes. I also did not cover it with foil. The topping is so good and the chicken came out juicy and full of flavor.
Preheat oven to 375 degrees.
Melt the butter with the chopped garlic in a bowl.
Add the parmesan cheese to the crushed saltine crackers (A food processor works perfectly).
Drench the chicken breasts in the butter- garlic mixture, then dredge it with the cracker-parmesan mixture.
Place chicken into a baking dish.
Pour remaining butter garlic over chicken and sprinkle with left over cracker-cheese mixture. Sprinkle with parsley.
Cover with foil and cook for 30 minutes, then uncover and cook for 45 minutes.