awalde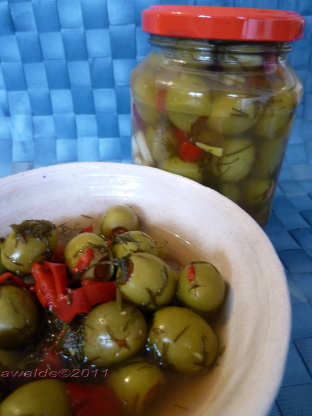 Nice finger food, or great on sandwiches. Also good as a garnish for a bloody mary or a martini.

Very cool recipe! I whipped this up while I was making an entree that required pimento stuffed olives and garlic, as well. I had a huge jar of olives (because I love them sooooo much), so it worked out well. I have the remainder (of what we haven't snacked on) in the fridge. I need to go and get more garlic and olives now (I used both up in the two recipes that I made). Thanks for posting a delicious treat. (Made for PRMR)
Drain the olives, reserving the liquid. Place the olives in a small bowl, and set aside.
Place the olive liquid in a small saucepan. Add the chiles and the remaining ingredients; stir well. Bring to a boil; reduce heat, and simmer, uncovered for 5 minutes. Pour the hot vinegar mixture over the reserved olives. Let cool.
Cover and chill thoroughly. Drain before serving.