Garlic Oil and Roasted Garlic Cloves
Kathy228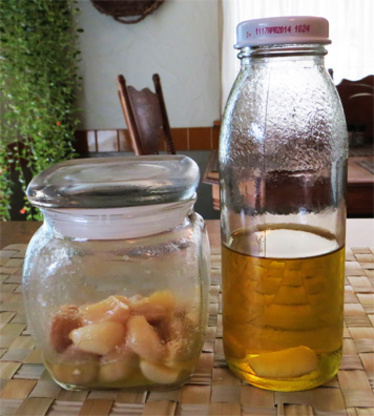 For garlic lovers. This recipe makes both garlic-infused oil and creamy roasted garlic cloves at the same time. The roasted garlic oil can be used on salads, boiled red skins, baked potatoes, sauteeing, frying eggs, as a finishing drizzle on pasta and pizza, etc. And the cloves are delicious spread on bagels, toast, crackers, eng. muffins, in cooking. You can use already-peeled garlic cloves from the grocery store.
Love this! So good and easy! It took a significantly longer time for the garlic to be soft (20 additional minutes), but easy fix!
Into a small, tall, glass or ceramic oven bowl, place a cup or more of peeled garlic cloves. Cut off the little 'button' stem end of the clove.
Cover garlic with a mild olive oil. Cover bowl with foil and poke several vent holes.
Put in 350 degree oven for 30 minutes or til cloves are slightly golden and can be pierced with a fork but not mushy.
Remove from oven and when cool enough to handle, pour the oil into a carafe (strain if desired); and save the cloves in a glass jar with a lid. I use a cleaned-out clam juice bottle for the oil.