Hey Jude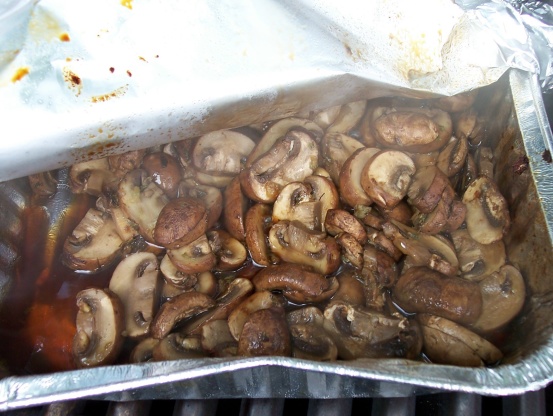 I think I got this recipe off AOL several years ago and it's so good! Prep time includes marinating time and cook time is a guess since grill times may be different.

This 5 star is for the mushrooms only!!! They were great. We could not get enough of them. We also did the steaks but now we know that we do not like sweet on our steaks. Even the little bit of brown sugar gave it too sweet of a taste for us.
Mix the steak sauce, onion and brown sugar in a glass dish. Add steaks, coating well; marinate in fridge at least 30 minutes.
Make mushrooms by combining all ingredients in an aluminum pan. Cover loosely with foil. Place on hot grill. Cover and grill 10 minutes. (Mushrooms can be placed in a 350º oven instead, baking for the directed amount of time). Stir mushrooms after 10 minutes and re-cover them, continuing to cook them for another 8-10 minutes.
Remove steaks from marinade. Grill until steaks reach desired doneness.