PaulaG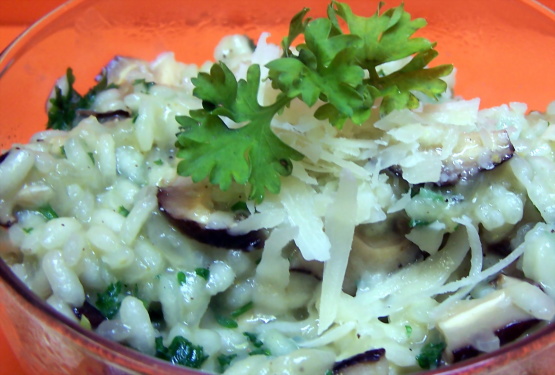 Warm and comforting! I have used long grain rice in this also, just increased the liquid and cooking time, and also sometimes omit the cheese. The great thing about risotto is it's so adaptable!

We really enjoyed this dish. I didn't have parsley or chicken stock, so I used beef stock in place of chicken stock. It made a lot, and I'm glad because I think the leftovers were even better the next day! Even my 1 year old DS enjoyed it a lot. I also chopped the mushrooms instead of slicing them to make it easier for him to manage when eating. Lastly, to sneak in a little more veggies and add some color (not altering the flavor), I threw in a couple handfuls of baby spinach leaves during the last 5 minutes of cooking. We'll definetly be making this again! Thanks for posting!
Saute mushrooms in butter. Season with salt and pepper to taste.
Set aside.
Meanwhile, in a deep skillet, saute the onion and garlic in oil over medium heat until soft.
Stir in the rice and cook 1 minute, coating rice with the oil.
Stir in 1 cup of the hot broth and let simmer until the liquid is mostly absorbed, stirring frequently.
Repeat with the remaining broth and hot water.
Taste for doneness: the rice should be creamy and slightly chewy in the center, not dry.
Add more hot liquid if necessary to cook longer.
Total cooking time should be 20-25 minutes.
Stir in the mushrooms, cheese and parsley and season to taste.
Cook till warmed through.