Garlic Mushroom Pork Burgers
Bergy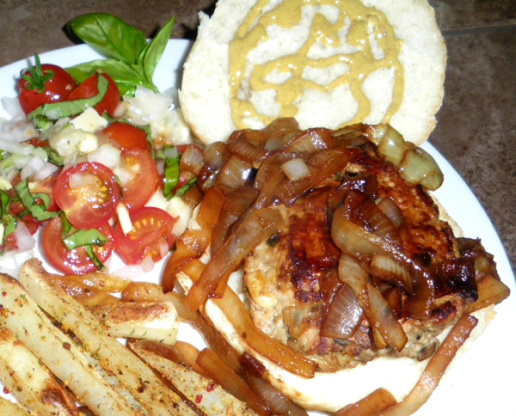 My DH cannot eat red meat for health reasons, so I have to get creative sometimes! I made this up last week. DH keeps telling me I need to post this recipe on here because he loved it, so here it is!

I really enjoyed these burgers - although I didn't serve them on buns like a traditional burger, they were very flavorful. I only used 2.5 cloves of garlic, and feel that next time, I will definately tone it down some more.
Drowned in Ketchup, mine was fantastic. My husband was not a fan, but my 1.5 year old ate it up! 2 out of 3 ain't half bad.
... maybe I didn't use enough mushroom to balance out the garlic, but phew! I can still taste it! Otherwise, this was a really great flavor combination, and I will definately be making it agian. Thanks for sharing!
Sauté mushrooms and garlic.
Mix with ground pork.
Add 3 splashes of Worcestershire sauce.
Mix thoroughly.
Broil in oven 10 minutes (depending on oven), flipping once.
*I would also probably add some chopped onion to the sauté, but DH can't have those, so I haven't tried it.