Garlic Mozzarella Muffins
Hadice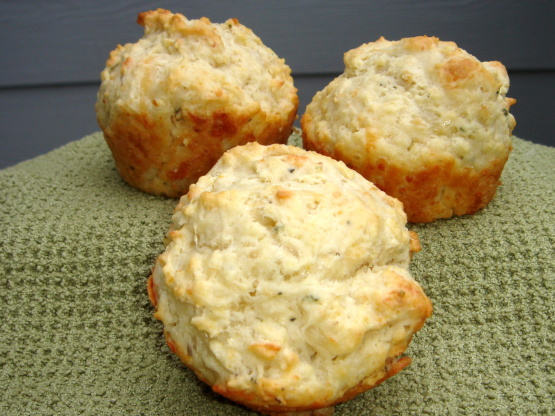 I had a craving and couldn't find a recipe so I made one up myself. These are so good.

We enjoyed these for Saturday lunch with pizza soup. While baking, the garlic aroma was very strong, and I was worried the flavour would be overwhelming, but it's not. They were very tasty, only mildly garlicky. Both of my fussy children liked them very much, both warm from the oven and cooled off later. Thanks, CoffeeMom.
Preheat oven to 400º.
Combine flour, baking powder, oregano, basil and salt in a bowl and mix well. Stir in shredded cheese. Stir until cheese is coated in the flour mixture.
In a separate bowl combine milk, butter, egg and garlic. Stir well. Pour into dry ingredients and stir until just mixed.
Grease muffin pan and fill cups 2/3 of the way full of mix.
Bake at 400º for 20 minutes. Serve hot.
These reheat well.