ChefDLH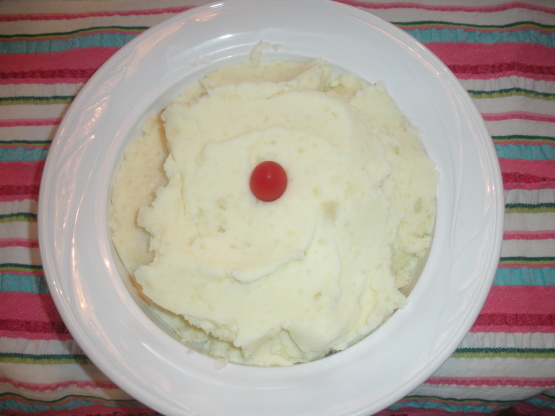 Excellent garlic mashed potatoes. Creamy smooth and light and fluffy. A relative said the best mashed potatoes she has had. Everyone loved them here. Easy, easy! I made them and topped it with a cherry tomato and it looked like a dessert the potatoes were that creamy. I will make again and agin. Made for Pick A Chef Spring 2012. Thanks for posting Philadelphia Cream Cheese! Enjoy! ChefDLH.
COOK potatoes and garlic in boiling water in large saucepan 20 minute or until potatoes are tender; drain.
MASH potatoes until smooth.
STIR in remaining ingredients until well blended.
Substitute: Omit garlic. Prepare using PHILADELPHIA Spinach & Artichoke Cream Cheese Spread.
Nutrition Information Per Serving: 200 calories, 10g total fat, 6g saturated fat, 0g trans fat, 35mg cholesterol, 430mg sodium, 25g carbohydrate, 2g dietary fiber, 3g sugars, 3g protein, 8%DV vitamin A, 15%DV vitamin C, 4%DV calcium, 2%DV iron.