Alia55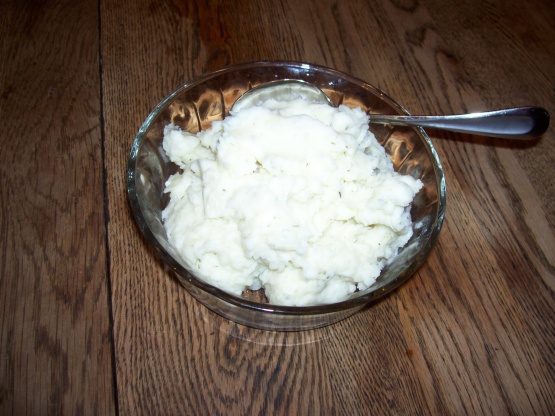 These are very tasty. I tend to add a bit of thyme to the as well as the chervil.
Preheat oven to 350°F.
Remove outermost papery leaves from garlic but do not break bulbs apart or remove thin paper sheath covering each clove.
Rub garlic bulbs with olive oil and wrap together with thyme sprigs in a loose aluminum foil packet.
Place packet in a baking dish and roast until garlic is very tender.
When cool enough to handle, peel garlic and squeeze soft cloves into a bowl.
Place potatoes in a large saucepan and cover by 1 inch with cold salted water.
Bring to a boil over moderately high heat.
Cover and cook until potatoes are tender.
Drain.
Mash potatoes with a potato masher and return to a clean saucepan; stir in cream, butter, and garlic cloves, and beat well.
Season to taste with salt and pepper.
Transfer to a warm bowl and garnish with minced chervil.