AcadiaTwo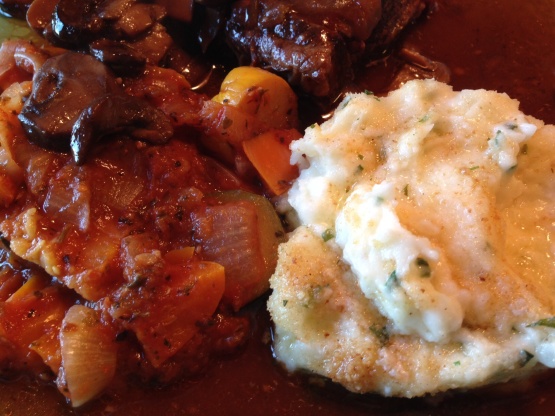 This wonderful recipe came from my friend, Diane, and both of us prepare this for almost every family occasion. It would not be a meal at Mama's without them. Easy to make ahead and complements everything.

This recipe needs way more than five stars, as it made my potato hating 7 year old woof down mashed potato without a word of protest or complaint!!!
The only change I made was not to top with the breadcrumbs, as I used the mash to 'thatch' my cottage pie.
Smooth, creamy and oh so good...I could eat a plate full on it's own and be in heaven!!
Thanks for a great recipe NJ.
Made with great pleasure for AUS/NZ RECIPE SWAP #64
Steam potatoes until tender.
Beat JUST potatoes 'til no lumps remain.
Beat in minced garlic cloves, salt, 1 stick butter, cream, and parsley -- adding liquid gradually and beating 'til creamy.
Spoon into oil-sprayed baking dish. Sprinkle with bread crumbs and dot with remaining butter.
Bake uncovered at 375 degrees for 25 minutes.