Mme M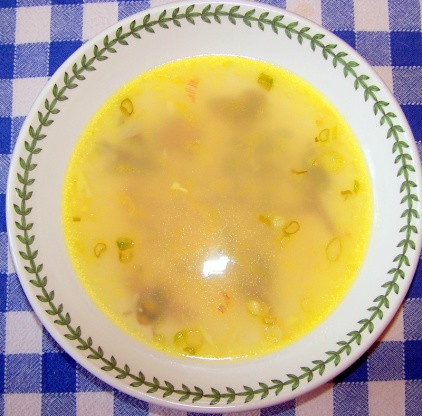 I think this is from a Gilroy Garlic Festival...it's a light, simple, wonderful starter that I serve in mugs before dinner. It's also our cure-all for winter colds. Since it is so simple, the quality of the chicken stock is crucial. I usually add way more garlic and cilantro than the recipe calls for, but heck, when EVERYONE is eating garlic, who cares?

I don't imagine you'll be reading this review unless you LOVE garlic. It really is a must-try recipe for garlic lovers. I took DeeCook's instruction in step 4 as permission to add another of my favourite ingredients: 2 cups of fresh baby spinach leaves, which I added in the last 1-2 minutes of cooking. And I used a home-made chicken stock. We also loved the lime juice in this. A wonderful soup, DeeCooks! We loved it, so I'll be making it often. Thanks so much for sharing it! Made for 1-2-3 Hit Wonders 2008.
Saute garlic in oil SLOWLY til very soft and golden.
Add broth, bring to a simmer, add lime juice and cilantro.
Garnish with a few whole cilantro leaves.
Obviously this can be played with--I've tossed in chopped avocado, crushed tortilla chips, chopped tomato, etc. But the basic simplicity is its beauty.