Jane Gib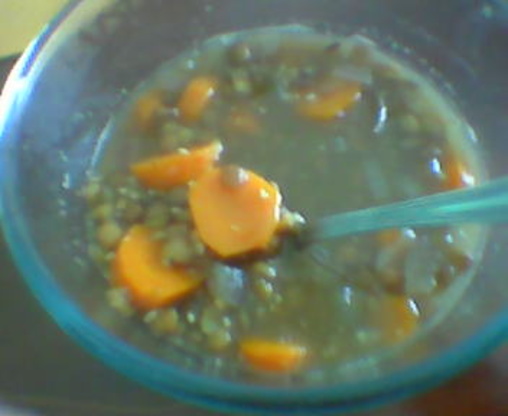 This may take a bit of time to make but it is one of my favourite comfort foods, especially on a nippy winter day. From Cooking for Diabetics by Michekke Berriedale-Johnson

I usually pick one or two Zaar recipes a week to make for my husband and I to take for lunch. This was it for last week. Wow, SG, we both thought your soup was delicious. Not hard to make either. I didn't add any extra stock or water because we like a thick, hearty soup/stew. Just added some salt and pepper but otherwise the seaoning was perfect. This is a wonderful cold weather meal and healthy too. Thanks for sharing it.
Put the lentils, onions, garlic, carrot, oil, bay leaves, marjoram or oregano and stock into a large saucepan.
Bring to the boil and then simmer gently for 1 1/2 hours, stirring occasionally.
Remove bay leaves and add the red wine vinegar as well as the salt and pepper to taste.
You can thin the soup out if you like with a little stock or water before serving.
To freeze: Freeze in a rigid container.
To reheat: Thaw and heat through.