Garlic Lemon Chicken (Hcg P2)
teresas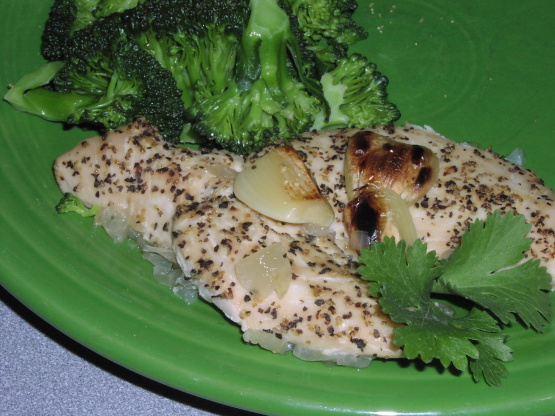 A yummy way to prepare your chicken!! The lemon adds an extra bite. [The 400g of chicken breast would be 4 100g pieces] Note: You don't have to eat the onions as your veggie (it's primarily for flavor). Just eat the chicken and add veggie of your choice (unless you've found that you can mix some veggies a bit, but that's not 'to protocol'.)

This was really good...I enjoyed the garlic...I just sliced them after they were cooked and ate a slice with a bite of chicken...I can see adding some additional spices just to give it more of a kick...maybe red pepper flakes...I love things with some heat...I did throw the dish under the broiler for a bit just to brown it up...of course the garlic browned first..overall a great p2 recipe...thanks for posting it...made for Spring 2012 PAC...:)
Preheat oven to 350* F.
Heat non-stick saucepan over MEDIUM heat. Add the onion. Stir constantly until tender, 5-10 minutes. You may want to add a little water or chicken broth to the saucepan, if needed.
Transfer onions to glass baking dish. Place chicken breasts atop onions. Squeeze on lemon juice and sprinkle with pepper. Place garlic around and on the chicken. Cover tightly with lid or aluminum foil.
Cook for 30-45 minutes, or until chicken is no longer pink.