Garlic in the Straw and Hay
Thorsten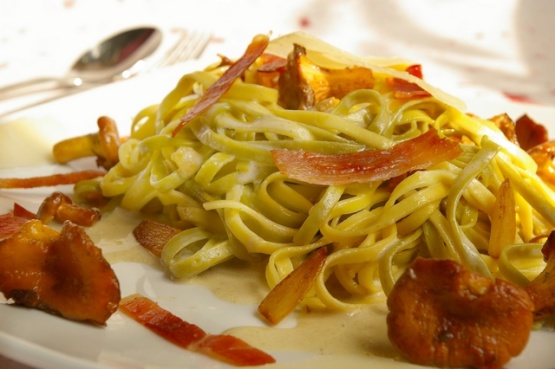 straw and hay are white and green linguine that are combined. Minced proscuitto, mushrooms and a creamy cheese sauce. Recipe from Garlic Lovers cookbook

I love easy but tasty pasta recipes. And this one is great. I used chanterelle, because they have season now. Don't cut them, they look too pretty. And I cut the bacon into small stripes. For the rest I followed the recipe as described here. This pasta recipe is full of flavours, which are blended so well by the sauce based on cream. The salty notes of the bacon are great and you don't need to salt the sauce. And although this recipes contains a lot garlic, it is not overhelming the other flavours. I was surprised how well the garlic fits here. I would suggest not to mince all garlic cloves. Cut one or two in thin slices for the look. Great recipe, thanks for sharing.
Melt 3 Tablespoons butter in large frying pan. Add garlic and saute until slightly brown.
Add sliced mushrooms, sprinkle with a dash of salt and saute for 3 minutes tossing occasionally.
Remove from heat.
In another pan, saute prosciutto in remaining 3 Tablespoons of butter until browned.
Using 2 pots cook pasta according to directions. The green pasta will take about 1 minute longer to cook then the white.
After draining the pastas, combine the pastas in a large bowl.
Reheat skillet with garlic and mushrooms, add cream and chicken broth. When sauce simmers, add parmesan cheese and stir to mix.
Add prosciutto and toss again.
Add the pastas to pan, and heat until warm.
Sprinkle with additional parmesan to taste.