I'mPat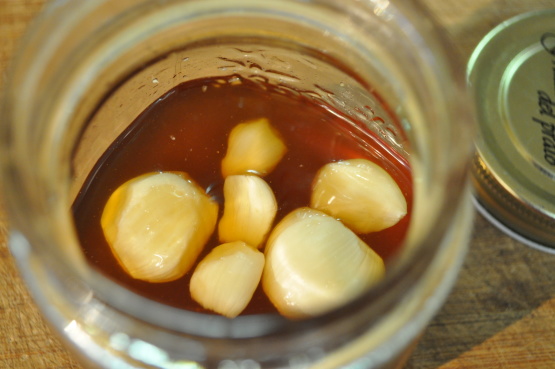 Found this in Quick and Easy Cooking with Garlic cookbook.

Top Review by I'mPat
I used some sweet home grown garlic (the bulbs were small only getting 5 to 7 cloves per bulb but oh so sweet tasting so I used 2 but halved the rest of the recipe). Well after a week I used 3 to make nemokitty's recipe #443119 (Sweet Potato Cakes) and looking forward to using in dishes that require honey and garlic. Thank you nemokitty made for Newest ZAAR Stars. UPDATE - have now made this several times and find the honey to be absolutely wonderful in stir fry recipes which are honey based (eg stir fry honey chilli prawns or chicken), well worth even making up in small batches to have in the fridge.
In a sterilized jar, put in skinned garlic cloves and pour in honey.
Leave to soak for a week.
Both flavored honey and the garlic can be used for cooking.