Garlic Horseradish Sirloin Roast
Derf2440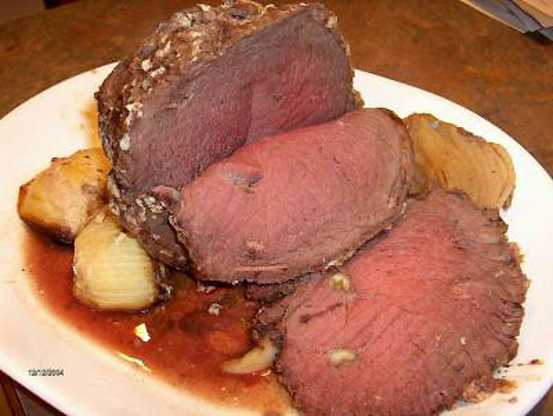 Did this for dinner today, very delicious with apricot glazed carrots and garlic mashed potatoes, Mmm so good! from Canadian Living magazine.

Very flavorful! I used a 2 lb tri-tip (sirloin tip) roast. I didn't have enough mayo so I mixed it with dijon mustard. It came out splendidly! The recipe didn't say what to do with the leftover onions from the strained sauce, but I couldn't possibly discard them, so I added them to some baby carrots I had microwaved for 6 minutes with a little water in a casserole dish. It was a wonderful side dish along with mashed potatoes. Next time I will add more beef broth and buy a bigger roast (to have more juices) because it only yielded about a cup of sauce and there were 4 of us. It would have been yummy to have it on the potatoes as well. Thanks so much for posting this!
With a sharp knife tip, cut about 40 slits all over roast.
Stuff each slit with a garlic sliver.
In a small bowl, whisk together mayonnaise, horseradish, sage, salt and pepper, brush all over roast.
Place onions in centre of roasting pan, place roast on top of onions.
Roast in 325°F oven until thermometer registers 160°F for medium, about 2 hours.
Transfer to cutting board and tent with foil, let stand for 10 minutes before carving.
Skim fat from pan juices.
Pour in beef stock and Worcestershire sauce, bring to boil, stirring scraping up brown bits.
Whisk cornstarch with 1 tablespoon water, whisk into pan and cook, whisking until thickened and glossy, about 2 minutes.
Strain and serve with beef.