From: "The Mediterranean Vegan Kitchen" by Donna Klein. "Perfect for a party, these crunchy triangles are excellent vehicles for a variety of dips and spreads." "They're also a healthy snack on their own."
Directions
Cooks Tip: For the best results, use a baking sheet that is not too dark for this recipe; otherwise, watch the pita bread carefully as it burns easily.
Preheat oven to 500°F.
Separate each pita quarter into 2 pieces.
Arrange in a single layer, rough side up, on an ungreased baking sheet.
Brush evenly with the oil.
In a small bowl, combine the parsley, chives, and garlic.
Using your fingers, distribute the herb mixture evenly over the pita quarters.
Sprinkle evenly with coarse salt.
Bake on the top rack of the oven for 3 to 5 minutes, or until the pita quarters are nicely toasted.
Reviews
Most Helpful
I thought for sure these would burn at 500 degrees, but it worked perfectly. Mine were done in 4 minutes. I loved the garlic flavor. Delicious snack. Thanks!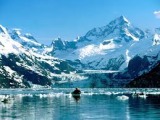 These were very easy to make. I think next time I will double and also add some red pepper flakes. Thanks engrossed. Made for Best of 2008 Cookbook Swap.