Garlic-Herb Parmesan Buns
mianbao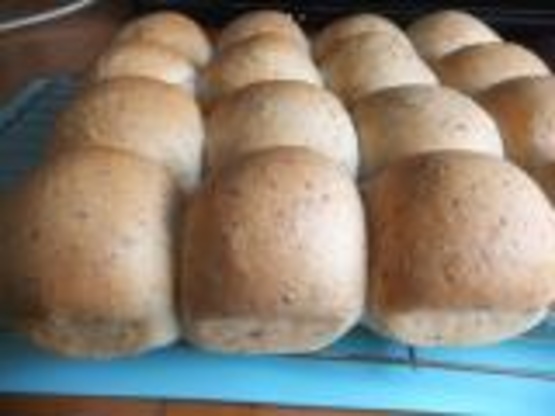 Adapted from a checkout-aisle cookbook. Preparation time listed does not include mixing or rising time.

I got 25, 45-gram (1 1/2-ounce) rolls with this recipe. I'm very happy, both with the texture and the flavor. I did make the dough in my bread machine, but it rose very quickly, and I had to remove it 15 minutes early, because it was threatening to overflow. I did make a few substitutions, but I don't think they changed the basic recipe. I used fresh garlic, minced, cooked in 1 tablespoon olive oil, and cut the butter back from 2 tablespoons to 1 tablespoon. I also used 1 1/2 tablespoons honey in place of the 2 tablespoons sugar, because honey is supposed to help bread stay fresh longer. Honey is sweeter than sugar, so I reduced the amount. I also used dried basil and oregano, 50-50, instead of Italian seasoning. Thank you very much for sharing this very versatile recipe with us. I will be making it again.
Place all ingredients in bread machine pan, starting with water and butter, then dry ingredients, then yeast on top. Program dough cycle and press start.
Turn dough out onto lightly floured surface. Cut into 12 pieces and shape into smooth balls. Place on greased baking sheet (or parchment) and flatten slightly. Let rise in a warm place 45 minutes or until doubled.
Preheat oven to 400°F Brush buns with water and sprinkle tops with a pinch of parmesan cheese. Bake 15 minutes or until lightly browned. Serve warm or cool completely on wire racks.