Garlic Herb Mashed Potatoes
Derf2440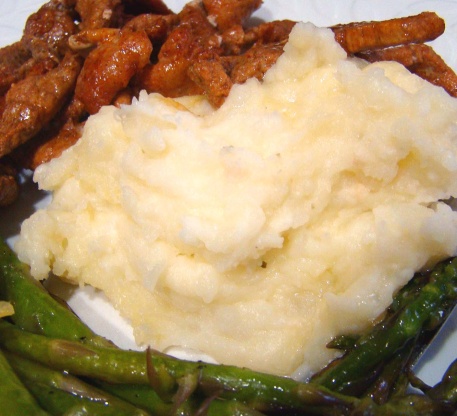 Great for the holidays. Make the day before so flavors have time to meld together. Used for our Gourmet Club with great results.

Lovely flavourful mashed potatoes. I used a Chipotle garlic spread. No butter, they really didn't need it. Just made enough for 4 servings, we had some for supper tonight and will finish them for tomorrow night. Quite delicious, I elected to leave the skin on, we like them that way; the colour was a little orange/yellow because of the Chipotle but still looked very appetizing. I will make these again, perhaps trying different flavoured cheeses, thanks for posting.Feb 21/10 - did this again for supper tonight, delicious! although i tried the bursin cheese this time and we do prefer the other cream cheese, this had not enough flavour and had to add garlic to it, but it was still delicious!
3

lbs large red potatoes, cut into 1 inch pieces (peeled or unpeeled or both)

1

cup milk
3⁄4 cup garlic & herb spreadable cheese (such as boursin)
butter (optional)
In a saucepan simmer potatoes in water, enough water to cover the potatoes.
Cook until tender 15 minutes or so.
Drain potatoes and return to pan.
Mash potatoes with milk, cheese and salt and pepper to taste.
Some butter maybe added to mixture if desire.
Reheat over moderate heat stirring occassionally until mixture his hot.
BEST WHEN MADE THE DAY BEFORE.
Reheat in oven on 350 degrees until hot about 45 minutes.
Cover for most of the oven time, and then uncover last 15 minutes.