Garlic Grilled Steaks (Basting Sauce)
lazyme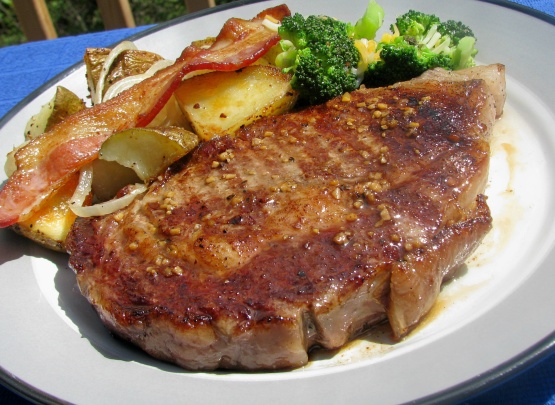 Have you ever ran out of time to get your steaks marinated and all the recipes call for hours of marinating? This one takes just minutes to prepare and is then used for basting your choice of steaks while grilling and gives them a wonderful garlicky blended flavor. Recipe courtesy of TOH.

Wow, what flavor! I used this recipe for filet and it was tender, juicy and delicious. Thanks, diner!
With a mortar and pestle, combine the garlic, salt and pepper. Add the oil, lemon juice and mix to form a paste.
Grill steaks, covered, over medium heat for 6-8 minutes on each side or until meat reaches desired doneness (for medium-rare, a meat thermometer should read 145°; medium, 160°; well-done, 170°. Brush with garlic mixture during the last few minutes of grilling. Let stand for 3-5 minutes before serving.