Garlic Fries - the Real Deal
lazyme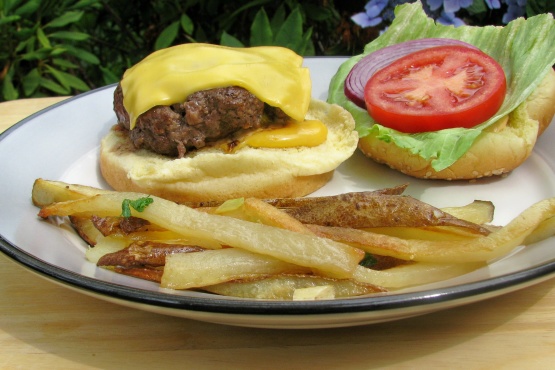 Living in California, I have tried every garlic fry out there and they all have too much garlic, too much/not enough salt or they are dry on the inside and lack the crispy crunch on the outside. Here is a better built Garlic Fry that leaves you satisfied without the all the fat and calories of the traditional version. Please note that fresh garlic should be used, as the jarred versions will overpower this recipe immensely.

Top Review by Bergy
What a GREAT garlic potato recipe. The garlic & parmesan gets little crunchy bits on the potatoes Mmm. I sliced my potatoes and they were done in 25 minutes - baked on a pizza stone. I used no oil or butter but used Mazola "No Oil" spray - worked beautifully. Didn't have any parsley but next time I will have it on hand. Thanks for a recipe that realy hits the spot
Preheat oven to 400°.
Combine first 3 ingredients in a large zip-top plastic bag, tossing to coat. Arrange potatoes in a single layer on a baking sheet coated with cooking spray. Bake at 400° for 50 minutes or until potatoes are tender and golden brown, turning after 20 minutes.
Place butter and garlic in a large nonstick skillet, and cook over low heat 2 minutes, stirring constantly. Add potatoes, parsley, and Parmesan cheese to pan; toss to coat. Serve immediately.