Garlic Eggs from the Provençe
cyaos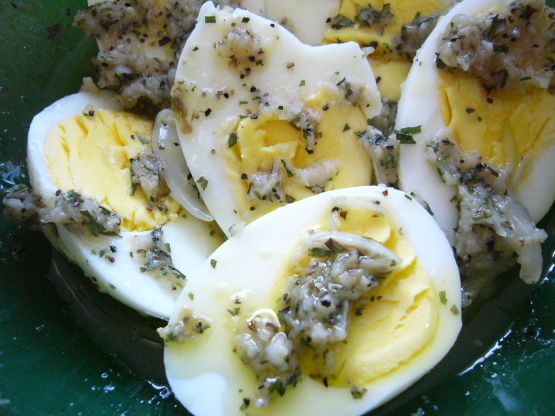 Best made the day before. Not for the health conscious. A liking for garlic helps. Don't use a blender to make the paste; using a mortar and pestle is indispensable to get the right consistency, which should still have small, crushed chunks in it. Great with toast.

Just made these eggs for the second time and they are great! I had the same guests that I had had the first time; these folks lived in Paris for several years and they loved the eggs! I uses more 4-6, anchovies this time; made the eggs the day before and let the flavors meld and served them with rustic bread to sop up the good drippings.
Peel the garlic. Blanch them in hot water (max 10 mins), drain well.
Boil the eggs circa 9 mins, peel and halve them.
Mince the tarragon.
Grind the garlic, anchovies, and capers into a fine paste in a mortar and pestle.
Add oil and vinegar slowly while continuing to grind.
Pour the sauce into a glass (or glazed) bowl and add the eggs and tarragon.
Keep covered in the fridge.