PaulaG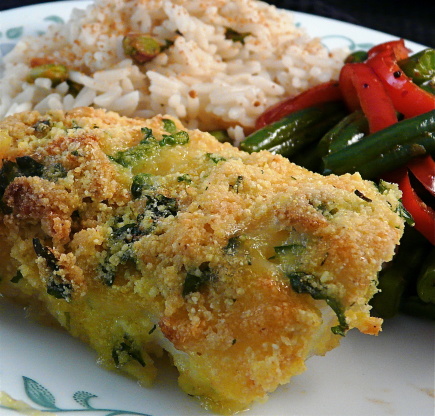 This recipe comes from The Black Dog Summer on the Vineyard Cookbook. Just buy the cod and parsley; and you probably have everything else at home. Such a simple fish recipe and it packs a lot of flavor. This is for garlic lovers! Note: if the breadcrumb coating doesn't immediately adhere to the fish, just pat it on. It works great.

Made for ZWT-8 because we get cod in bulk pks for our freezer. Since it's freq on our table & DH esp likes it fried, I'm always alert to tasty ways to prepare it in the oven. In the 2nd paragraph of my About Me Pg, my "More is Better Principle" is defined. "If anything is really good, then more of it is always better - esp butter & garlic!" The garlic flavor here takes that "more is better" step & the coating mixture is excellent. I'm just not good at the "dredge this & dredge that" process, tried it again & ran out of the coating mixture w/fillets still waiting for it. It usually works best for me to use the "trusty stand-by" method, shake the heck out of the fillets in a plastic bag, put them in the baking pan & then pack the coating on top at the end. Thx for sharing this delicious recipe w/us. :-)
Preheat oven to 400 degrees F.
Heat butter and oil in a saucepan over low heat and add the garlic for one minute to soften, not brown.
Remove pan from heat and add the bread crumbs, parsley, salt and pepper.
Mix to moisten the crumbs and seasonings.
Dredge each fish fillet in the beaten egg first.
Then dredge each fish fillet into the crumb mixture.
Place the coated fish fillets in an oiled roasting pan for the oven.
Bake the fillets in the preheated oven for about 10 to 12 minutes, until the crust is golden brown. The fish inside should be flaky. Use a fork to make sure the fish flakes and is done.
Serve with lemon wedges.