Garlic Coconut Mashed Yams (Sweet Potatoes)
karen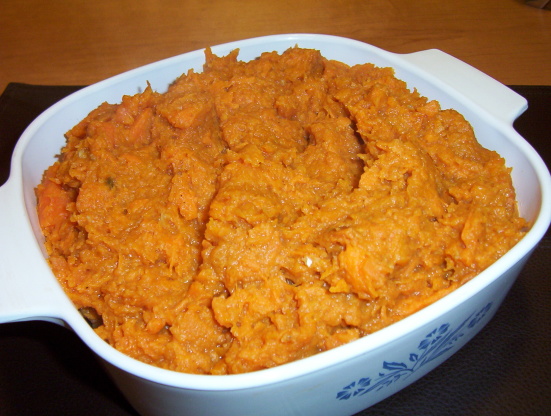 This flavorful vegan side dish is ever-so-slightly adapted from a recipe in The Millennium Cookbook. These yams are truly addictive. They are a beautiful bed for a filet of fish, and a perfect complement to Caribbean-inspired dishes such as jerked meat or tempeh. I've even been known to eat the leftovers cold, straight from the refrigerator! This is a savory sweet potato dish, rather than the traditional sweet ones - It emphasizes the flavors of garlic and thyme.

I loved these yams. I thought the garlic and thyme contrasted well with the sweetness of the yams and the coconut milk, creating a wonderful complexity of flavor. This is a very nice dish for someone who doesn't enjoy a super sweet yam recipe. I added a bit more coconut milk after reading the reviews here which said the flavor didn't come through, and i thought it had just the right amount of coconut flavor.
Heat oil in small saute pan over medium heat. Add the garlic and thyme and saute until the garlic is golden. Remove from heat.
Slice the yams into 2-inch cubes. Bring 2 quarts of water to a boil. Add the yams and boil for 15 minutes or until the yams are soft. Drain in a strainer and then return to pot. Add sauteed garlic and remaining ingredients. Mash until creamy, using a potato masher. Serve hot.