breezermom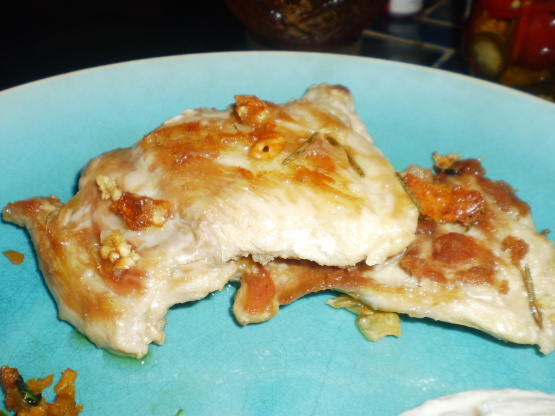 Full of flavor and VERY easy. Substitute chicken breast for a low fat version.

My DH and I liked this recipe. I did substitue basil for the rosemary.I didn't pound the thighs,I browned the thighs,then covered and cooked on low until the temperture reached about 170* I am going to try the chicken breasts the next time I fix this recipe.Thanks for sharing Steve.
Place chicken between 2 sheets of plastic wrap and pound lightly with a mallet or other heavy flat object to flatten slightly.
Season with salt and pepper to taste.
Heat oil in a heavy nonstick pan over medium high heat.
Add rosemary and crushed garlic.
Sauté 1-2 minutes, pressing down on rosemary and garlic to release flavor.
Remove with a slotted spoon and discard.
Sauté chicken 5 minutes per side, turning frequently until browned and cooked throughout.
Stir in minced garlic during last 2 minutes of cooking.