Garlic Chicken & Potato Salad
Debbwl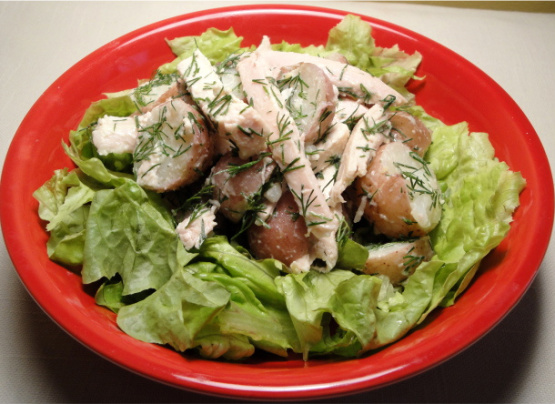 I got this recipe from a newspaper somewhere and made it for DS who loves his chicken and loves his potato salad. (He gets the best of both worlds with this recipe!) He and the family love it, and it is so easy and so tasty, and it can be served warm or cold. The herbs used can be your choice, I usually use chives, parsley, basil and sometimes oregano.

Top Review by Debbwl
Very nice salad! Liked that it is not drowned in dressing. Really like all the fresh herbs used dill, chives and parsley. Made using little creamer potatoes cut in half instead of 4 regular potatoes, also used a little olive oil in place of the egg yolk. The only thing I will do next time is add a little lemon and black pepper. Thanks so much for the post.
Preheat the oven to 180c.
Place chicken in shallow baking tray with the garlic,oil,onion salt and pepper. Cover with foil and bake for 35 minutes or until the chicken is cooked through.
Boil potatoes for 8 minutes drain and set aside.
Once chicken is cooked, set aside pan juices to cool for use later. Remove chicken and slice into thick slices and set aside.
Whisk the egg yolk, vinegar and mustard together. Whisk until well combined.
Combine sliced chicken, potatoes, pan juices and fresh herbs in a large salad bowl.
Line individual serving plates with salad leaves, and top with the chicken mixture and potato salad mixture.