ImPat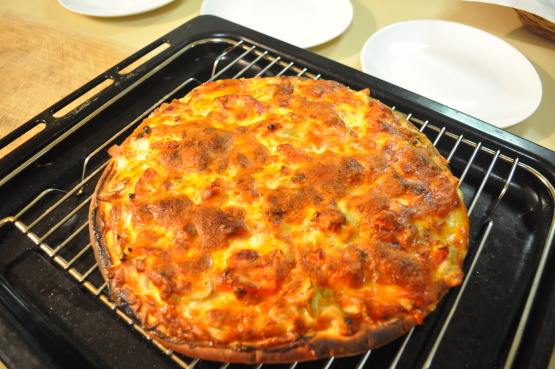 Saw this one in my wifes cookbook. Tried last night. A nice pizza. For more sauce if needed feel free to add more.

Top Review by ImPat
The DM and I thoroughly enjoyed what we had but I had some ingredient issues couldn't get alfredo sauce so used alfredo and also couldn't get sundried tomato vinaigrette drissing so omitted and used some fresh garlic for the garlic powder which I lightly roasted off (have a slight abundance of fresh garlic as we are plucking it from the garden) and fresh tomatoes once again from the garden and some deli cooked chook and frozen (defrosted) prepared pizza base and a mix of mozzarella, vintage cheddar and aged parmesan for the cheese and oh I added some mushrooms which were left over from making the DH's and DS's pizza and cooked on a rack at 175C fan forced for 15 to 20 minutes (ours was on the top rack and got a bit better done than the DH's DS's [meat lovers pizza] but both were delicious though theirs looked better. Thank you weekend cooker made for Make My Recipe.
Place pizza crust on a pan sprayed with nonstick cooking spray.
Prepare Alfredo sauce and add sundried tomato dressing.
Spread sauce over crust.
Place 2 cups of chicken and garlic powder evenly over top of the pizza.
Sprinkle shredded cheese over pizza.
Top with 3/4 cup diced tomatoes, and 1/2 cup sliced onions.
Bake at 375 degrees for 10-12 minutes in a preheated oven.