Bergy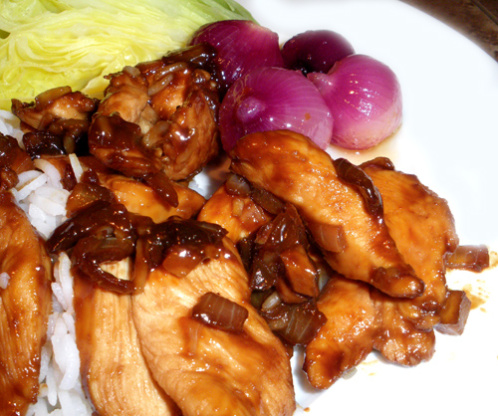 I got this out of a Taste of Home magazine years ago. It's still a favorite. I only use a teaspoon of ginger even when doubling, and when I double I only use 1/4 cup lemon juice. I'm making it tonight and am going to experiment by adding a can of chopped mushrooms and some peas, but this is the original recipe and it's great as is. **I am adding this since last review.....this is the original recipe but yes...I agree two teaspoons of ginger is way too much! I think 1/2 tsp would be plenty.

Top Review by Bergy
We really enjoyed this recipe served with recipe#92627, A wedge of steamed cabbage & rice. It is a definite do again and again recipe. I doubled the recipe but left the lemon juice at 1/4 cup and the honey at 2 tbsp the other ingredients were doubled. I marinated the chicken for 5 hours. Excellent, tender, delicious chicken
In small bowl combine onion, garlic, lemon juice, soy sauce, honey and ginger.
Add chicken; cover and refrigerate for at least 1 hours.
(I do this in the morning for that night's dinner, I personally don't think an hour is long enough).
Cook chicken and marinade in hot skillet until no longer pink.
Serve over rice, or rice cooked in chicken broth.