Barb G.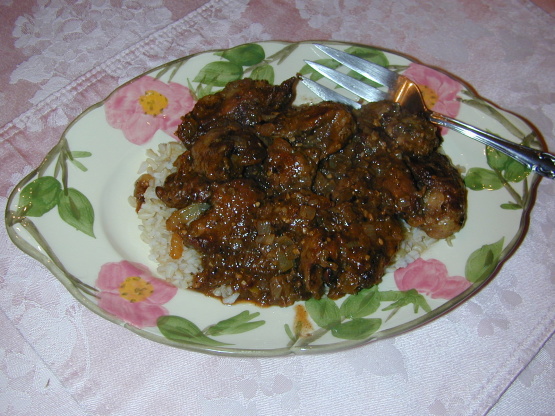 We love chicken livers. This is a very good and easy recipe.

Top Review by Manami
Hello again Barb, these are so good and tasty! I used 3 onions and caramelized them, aside from that I didn't have any sherry wine so I used beef consomme and it turned out beautifully. I served the livers with parslied noodles, as is stated in Maya Angelou's cookbook. Thanks for a lovley yet simple recipe, Diane :=)
Mix the flour, salt and pepper in a brown bag or plastic bag; put the chicken livers, a few at a time, in the bag and shake until completely coated.
In a heavy fry pan, heat butter and oil; cook livers 8 to 10 minutes, remove from pan and add chopped onions and garlic; when onions are transparent, return the livers to the pan.
Add the sherry; cook over a high flame for 1 to 2 minutes; Good served over rice.