Garlic Chicken and Potatoes
Marlene.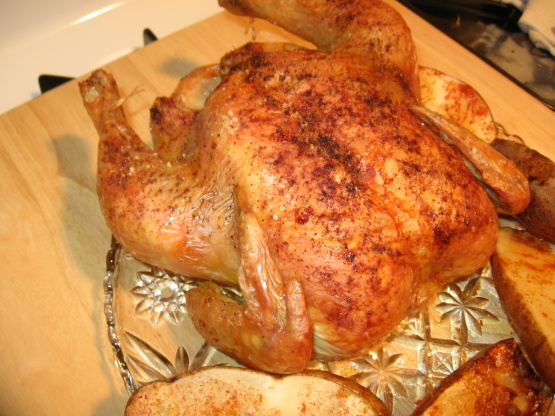 This is for lovers of garlic and comfort food. I don't know where it came from but I just cooked it one day like this and loved it ever since!

A super recipe! Delicious and simple with few ingredients. I found the liquid in the roasting pan dried out quickly, but I topped it up a few times when basting the chicken and veg. The liquid left in the roasting pan made a delicious gravy. I just added gravy granules and boiling water.
My husband and son loved it and the smell of this dish cooking in the oven was very appetising.
This will definitely be a regular dish in our house. Thank you for sharing it with us.
put small amount of water in bottom of roasting pan.
Cut potatoes in half & put in pan and sprinkle paprika, salt & pepper to taste.
Peel the garlic cloves and scatter them all over the potatoes.
put chicken that has been seasoned with salt & pepper & paprika on top of potatoes.
cook in oven on 350 for about 1 1/2 to 2 hours basting every so often.