Garlic Chicken and Grapes With Special Sauce
twissis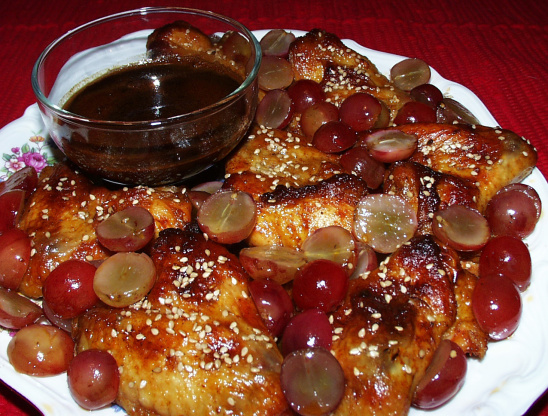 This is another one my sister in law found on Allrecipes.com. The flavors are great.

Excellent recipe! I used wings since breasts are so costly here & DH came home w/red grapes instead of green, but otherwise I was faithful to the recipe. I used my pastry brush to baste the wings w/pan juices when I turned them & again when I added the grapes. The wings were nicely brown, crisp & not at all dry. I poured off the sml amt of oil & moved the grapes around in the pan to coat them w/the juices before plating them. I liked the sauce, but DH thot the vinegar flavor was too strong. I will halve that next time, but I think deglazing the pan by making the sauce in it & then straining the sauce may also be a good idea. Pls see my rating system - a very worthy 4 stars. Thx for sharing this recipe w/us.
Combine mustard, soy sauce, honey and vinegar. Set sauce aside.
In a 9 x 13 inch pan, combine garlic and oil. Place chicken in pan skin side down.
If using thighs, bake covered at 400 degrees F (205 degrees C) for 25 minutes. If using breasts, bake covered at 400 degrees F (205 degrees C) for 10 minutes. Uncover, and turn chicken pieces over. Sprinkle with sesame seeds. Bake until no longer pink in center, about 15 to 20 minutes. Sprinkle grapes over chicken, and bake 5 minutes longer. Remove from oven, and arrange chicken and grapes on platter. Pass sauce when serving.