Garlic-Cheese Chicken Wings
ImPat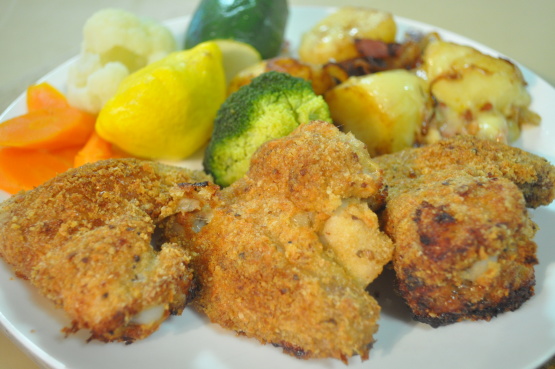 From Taste of Home October/November 2003. Donna Pierce of Lady Lake, Florida writes, "I developed this recipe several years ago using chicken breasts, then decided to try it on wings as an appetizer -- and it was a hit! If you like garlic, you're sure to enjoy these tender zesty bites."

I usually have homemade breadcrumb in my freezer...but of course when I went to find them..none there..so I used panko crumb instead. I wouldn't recommend this, as we felt that the lightness of the crumb didn't really work so well in this instance.
My garlic didn't seem to meld that well with the butter mixture, but still tasted great. I just had to make sure that the wings didn't get clumps of garlic stuck to them.
They cooked up really nicely ( I would have liked the hot sauce to shine through a little more...I couldn't detect it, but I DO like heat!), and tasted good..I will try this with chicken tenders next time...I think they'll be great.
Made for PRMR.
Remove papery outer skin from garlic (do not peel or seperate cloves). Cut top off garlic bulbs. Brush with 1 tablespoon oil. Wrap each bulb in heavy duty foil. Bake at 425 degrees for 30-35 minutes or until softened. Cool 10-15 minutes.
Squeeze the softened garlic in to a food processor. Add butter, hot pepper sauce, and remaining oil, cover and process until smooth. Pour into a shallow bowl. In another shallow bowl, combine the bread crumbs, cheeses, and pepper.
Cut chicken wings into three sections; discard wing tip section.
Dip chicken wings into the garlic mixture, then coat with crumb mixture. Place on a greased rack in a 15-in x 10-in x 1-in baking pan; drizzle with any remaining garlic mixture.
Bake uncovered, at 350 degrees for 50-55 minutes or until chicken juices run clear.