Pamela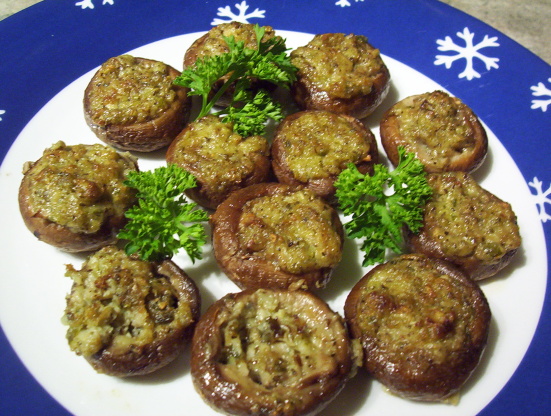 Serve as an appetizer or along side your favorite steak.

I actually cooked the mushrooms on the grill for our backyard bbq party. I wrapped them in aluminum foil and cooked for about 15 min, then put them on the barbi for a few moment to get the grill mark. Very, very good! The mushroom really suck up the love of that garlicky butter. I was out of the butter mixture by then end (maybe because I use really big mushrooms)so I suggest you make more, as I imagine it'd also taste fanTAstic as bread spread. Thank you for the recipe!
Clean mushrooms, removing stem.
Combine butter, shallots, garlic and parsley in a blender or food processor.
Process.
Add lemon juice, salt and pepper.
Blend briefly.
Place mushrooms in a shallow baking dish.
Fill each mushroom with a dollop of garlic butter mixture (about 1/2 or 1 teaspoon each).
Bake at 400 degrees for 10 to 12 minutes.