Garlic Bread With Truffle Oil
Rita1652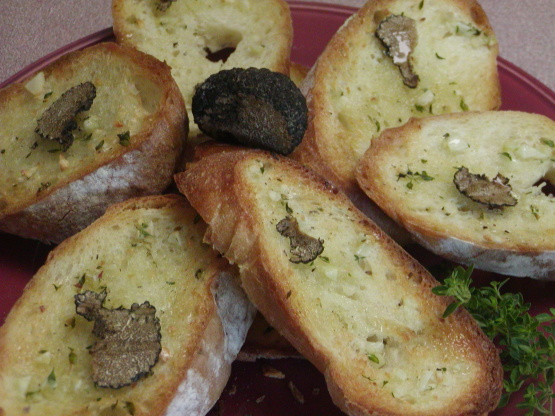 I made some Truffle Oil with Peppercorns and Thyme Truffle Oil With Peppercorns and Thyme so what do I do make crusty garlic bread with it! Yummy! A nice side to a dinner or serve as an appetizer.

I got some truffle oil for xmas and this was my first try with it. Delicious! I cut the truffle oil in half since it is a rather intense flavor for me
Preheat oven to 450 degrees F.
Place In a food processor the oil,softened butter, garlic, cheese and herbs.
Pulse until well combined.
Slice the bread into 1-inch thick slices.
You will need 12 to 16 slices.
Spread the butter mixture onto 1 side of each bread slice.
Arrange slices, butter side up and bake in the oven until lightly toasted, about 5 to 8 minutes.
Top each with a slice of truffles.
Enjoy!