Zurie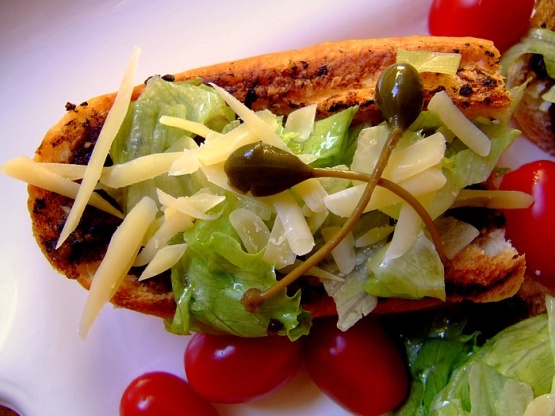 Sooo yummy! From TOH's Cooking for 2, spring 2007. Submitted by Maria McMartin.

Top Review by Zurie
Reviewed and photographed for Phototag, March 2009. A simple, quick recipe, and the 5th star is for the excellent combo of flavours in the butter! The proportions of the finely chopped sundried tomatoes, pesto, garlic and butter are perfect, so the flavour is wonderful. I could not find romaine lettuce, so had to make do with iceberg for the photographs, sorry!! This recipe can easily be used as a basis for a nice light starter if the salad is dollied up. The butter mixture alone will be great on bruschetta! I'd suggest adding more parmesan than the recipe says, and grate it more coarsely. I could not resist adding the caperberries for the photograph! Thanks for a great little recipe, Julie!!
Cut baguette lengthwise in half the cut each half into two pieces. In a small bowl, combine the butter, tomatoes, pesto, and garlic. Spread over the cut sides of bread and place on an ungreased baking sheet.
Broil 3-4 inches from the heat for 2-3 minutes or until golden brown. Cool slightly. Meanwhile toss romaine and salad dressing together the divide among the bread slices. Sprinkle with the Parmesan cheese. Serve immediately.