Garlic, Blue Cheese Mashed Potatoes
Rita1652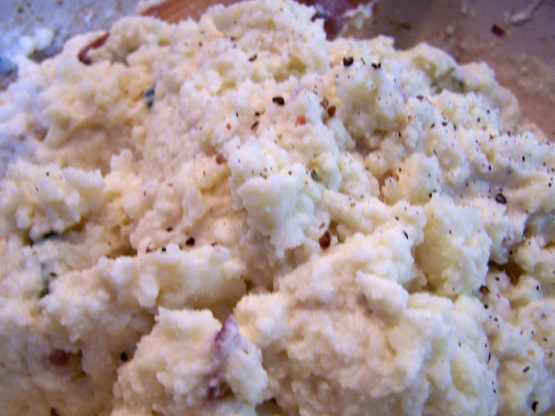 Rich, Garlicy, Creamy, Cheesy, mashed potatoes.

This is a very tasty variation on mashed potatoes! I used half and half to mash the potatoes, used Italian seasoning for the dried herbs, used white wine instead of vermouth, and used .5 lb blue cheese total, rather than .75 lb. It's such a strange thing...I really don't like blue cheese on its own, but I like recipes that include it! Weird. Thanks for the recipe!
In a large pan heat oil over medium high heat. Add onions, and garlic stirring all the while cooking about 4 minutes.
Deglaze the pan with vermouth.
Add salt, pepper flakes, herbs, and nutmeg.
Add milk and 1/2 pound blue cheese cook till melted.
Add potatoes and mix together.
Toss in crumbled blue cheese for texture.
Season with additional salt and pepper to taste.