teresas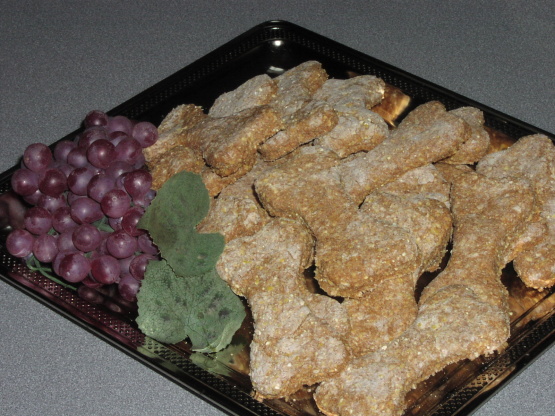 This one killer thought was good. For this recipe I would make at night time and let it set till the next day to give a treat for breakfast.

I made these as a special treat for my doggie...Zeke...hubby an I don't think he will be with us much longer...if he makes to the 21st of April he will be 14yrs...but we will be lucky if he makes it another week...=(...but he sure liked these biscuits...and so did our other doggie Jake...Thanks for posting them...
Preheat oven to 275°F or 140°C.
Mix the first 5 ingredients in a medium bowl.
Add in Egg, oil and hot water.
Stir well. Roll out on a well-floured surface to 1/2 inch thickness. Place on ungreased cooking sheet. Bake on center rack, for about 2 hours until dry and very hard. Let stand overnight to dry thoroughly. Makes 10 big bones and 14 puppy bones.