Garlic Basil Crescent Rolls- Homemade Gourmet
BecR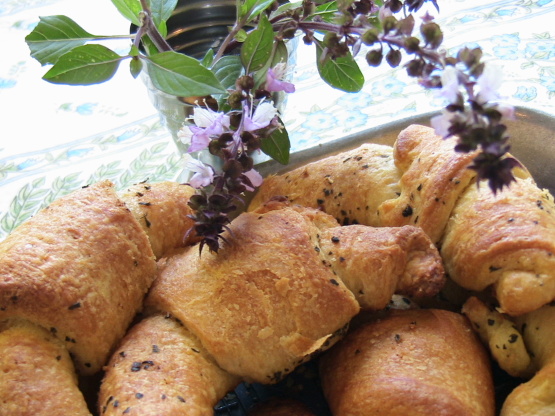 Recipe uses Homemade Gourmet's Garlic Basil Seasoning Mix. For more recipes using Homemade Gourmet mixes see Cookingfor7's public recipe book, "Homemade Gourmet Recipes".

Well, for my luncheon, no rolls, left, I had 2-3 each. I take that as a good sign. I ate ones and tasty and buttery. I was happy and so were they. It went great with the luncheon. Thx you, saved recipe!
1

(8 ounce) container refrigerated crescent dinner rolls

4

tablespoons butter, softened
1 1⁄2 teaspoons homemade gourmet garlic basil seasoning
Unroll crescent dough onto ungreased baking sheet.
Combine butter and seasoning. Spread over dough. Roll into crescent rolls and bake as directed on can.
Serve warm.