Garlic Asparagus and Green Beans
loof751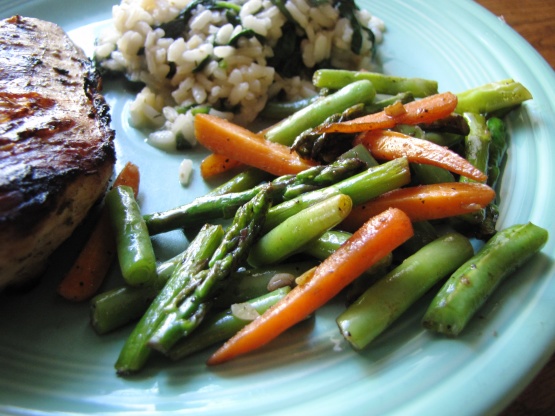 This recipe could not be easier. It's ready in minutes and is good hot, room temp or cold. If you like your green beans a little more tender you need to put them in the pan first to give them a little more cooking time. I make this when I have the ingredients fresh in the garden and the flavors are so bright and simple.You can add baby carrots too if you have them.

This is a great vegetable dish...I used the balsamic vinegar, which gave it a great flavor. I also put some carrots in and it all tasted great mixed together. Awesome recipe...thanks for posting!!
Heat a heavy bottom saute` pan to medium high. Add olive oil and swirl to coat pan. Add asparagus, green beans (and carrots if using) and stir well to coat vegetables with oil. Sprinkle in salt and pepper and add garlic. Stir constantly 1-2 minutes until garlic is lightly browned. Pour onto serving platter and add a splash of Balsamic vinegar to finish if desired. Can be served hot, room temp or cold.