Bergy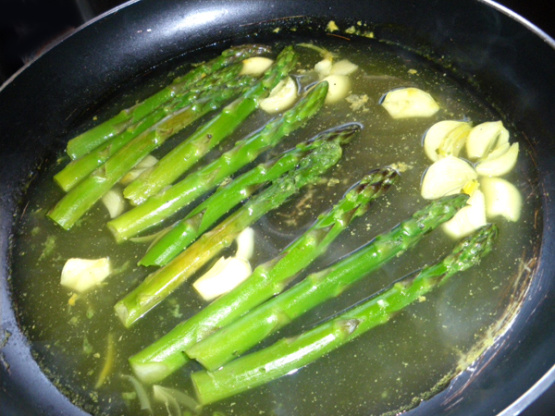 This has become our favorite asparagus recipe. It comes from a small book titled Totally Garlic Cookbook. I use regular chicken broth and omit the salt and the grated skin of the lemon. It tastes wonderful hot or cold, but is not as garlicky as you would imagine with a head of garlic in there.
In a large skillet, bring chicken broth, olive oil and garlic to a boil.
Add asparagus and return to boil.
Reduce heat to medium, cover, and cook just until asparagus is tender but still crisp, about 5 minutes.
Remove with slotted spoon to warm serving plate.
Raise heat and cook liguid and garlic in pan until syrupy and reduced to about 1/2 cup. Season with salt and pepper to taste. Pour over asparagus and sprinkle with grated skin from one lemon.