Garlic and Rosemary Roasted Potatoes
JustJanS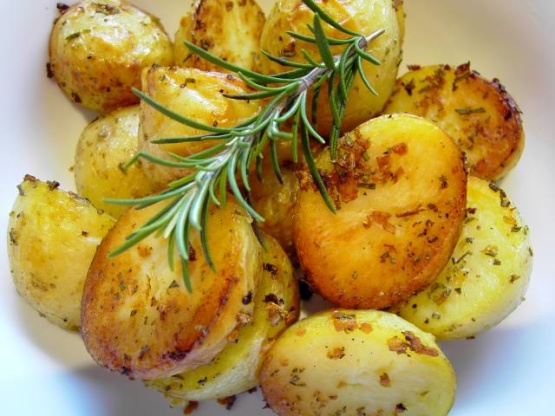 I just love the fragrance of these garlicy potatoes are they are roasting. Use fresh rosemary if you can, it really makes a difference.

I loved this recipe, but I knew I would just from reading it as the potatoes I make are very similar. I upped the olive oil to 2 T just because I love olive oil. Ate these like potato chips. Delicious.
Wash and scrub potatoes.
Cut potatoes in half.
Grease a baking sheet.
Preheat the oven to 400°F.
Place potatoes in a bowl or zip lock bag.
Add the olive oil and coat potatoes thoroughly.
Sprinkle potatoes with garlic, rosemary, and salt and pepper and stir or shake to mix well.
Turn out onto baking sheet.
Bake uncovered for 20 to 35 minutes, until lightly browned and crispy, stirring occasionally.