Garlic and Pepper Marinated Flank Steak
lazyme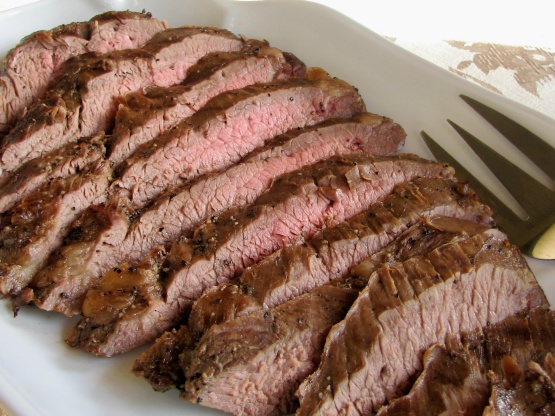 If you like pepper and garlic on your steaks this is for you. Yum. Makes 4 normal or 8 healthy sized servings. Prep time is marinating time.

Simple yet delicious. I love recipes that don't cover the taste of the steak and this one is the perfect example. Beef flavor is enhanced perfectly. Thank you.
Combine first 4 ingredients in shallow baking dish.
Add steak and turn to coat with marinade. Cover and refrigerate 3 to 6 hours.
Prepare barbecue (high heat) or preheat broiler.
Season steak generously with additional pepper.
Grill or broil steak to desired doneness, brushing occasionally with marinade, about 4 minutes per side for medium rare.
Thinly slice steak across grain and serve.