Garlic and Parsley Potatoes With Red and Black Pepper (Rachael R
teresas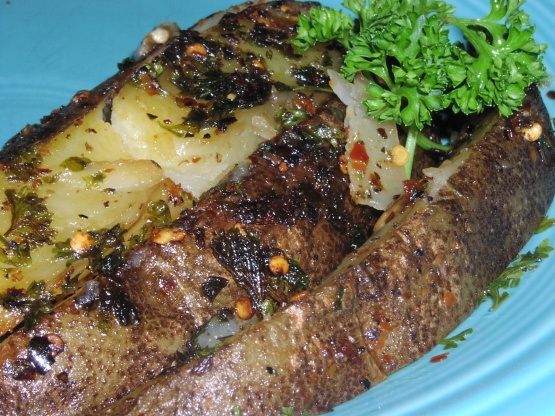 This is a recipe that I got from a cookbook that I've had a while called Racheal Ray's meals for 2,4,6,8 great meals for coupls or crowds.... I have prepared this and it is awesome.... I hope you enjoy it....

What a bunch of spicy goodness! I made as posted except I used a russet potato because that's what I had. I cut it in wedges and based on other reviewers, I parboiled mine for about 3 minutes. Tossed everything on the foil packet and it was done and so very tasty in 20 minutes. DH even said "Wow! my mouth is on fire", I guess I should have used the smaller amount of red pepper flakes. We love it! Thanks for posting. :)
Preheat outdoor grill to high or oven to 500 degrees F.
Rip 2 sheets of about 18in. long foil and stack them together.
Cut potatoes into wedges and pile them on the center of the foil.
Combine the garlic with the potatoes and sprinkle the EVOO, red pepper flakes, parsley, and lots of salt and pepper.
Pull the ends of the foil together and fold them over, then close the opposite sides to form a packet.
Cook for 20 min, turning once.
If cooking on a grill, place packet to the side and not over the direct heat to prevent scorching.