Garlic and Herb Bread Pudding
Debbwl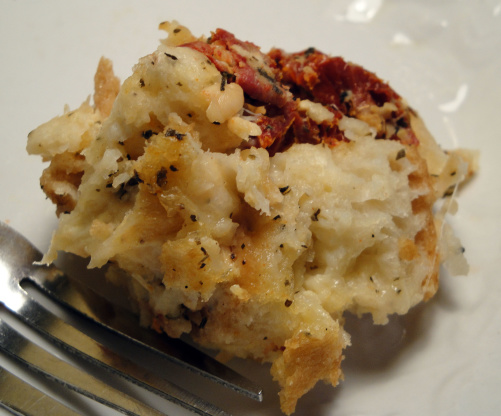 A savory bread pudding that can be served as a side for soups or grilled meat. Use good bread that is a day old; try rosemary focaccia or sourdough. Published in Cooking Light magazine, October 2001.

Top Review by Debbwl
Have never had a savory bread pudding, but did enjoy the garlicky goodness of this one. While the whole dish is very nice we really felt the sun-dried tomatoes brought it to life. Made as written using day old Portuguese fold bread and the dried basil option. Thanks for the post.
Preheat oven to 350°F.
Pour boiling water into a bowl. Place sun-dried tomatoes into the boiling water; cover and let stand 10 minutes or until tender. Drain well; finely chop.
Heat oil in a small nonstick skillet over medium-low heat. Add garlic; cook for 1 minuted, stirring constantly. Combine the milk and eggs in a bowl, stirring with a whisk. Stir in tomatoes, garlic, half of mozzarella cheese, half of Parmesan cheese, basil, salt and pepper.
Place bread in a shallow 1 1/2-quart casserole coated with cooking spray. Pour milk mixture over bread, gently stirring to coat. Let mixture stand 15 minutes. Sprinkle with remaining mozzarella and Parmesan. Bake at 350°F for 45 minutes or until golden brown.