Karen..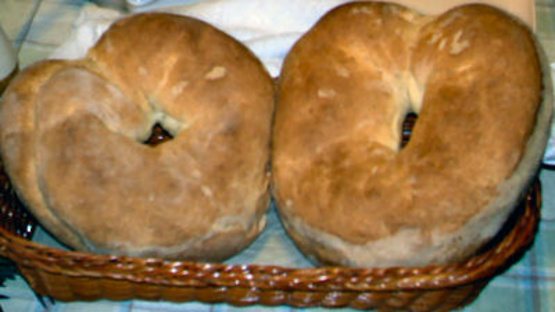 This as a tasty soft bread that goes great with your favorite italian dish, as well as just by itself. This recipe is for an Abm-dough cycle.

For some reason I had absolutely no luck with this recipe. =( I started with 1 cup of water (heated), added 1 t of the sugar, and the yeast. It was very foamy after a few minutes so I believe the yeast was okay, but the bread never rose. I did find the reduced amount of water was correct for the recipe. I had no problems with stickiness. This bread did smell heavenly while proofing and baking. I plan to make italian flavored breadcrumbs out of the result to salvage something.
Add ingredients in order as listed to your ABM, and set on dough cycle.
After cycle ends: remove dough and seperate into 2 sets of dough. This dough will be very sticky, so you must sprinkle flour where you are going to work with the dough. I also coat my hands in flour so I can handle it. Don't be afraid to sprinkle flour all over it if necessary, this won't hurt it.
Roll out each loaf into a 12x5 inch, and pull-up dough long side, so you will have two 12 inch loaves, pinch sides closed.
Turn on oven for a few minutes to about 100 degrees, then turn oven off.
Place loaves on greased cookie sheet and cover with kitchen towel.
Place loaves in oven to rise for about an hour.
Remove loaves from oven, then preheat to 350 degrees.
Place loaves back in oven for 20-25 minutes.
Removed and let cool on cake rack.