Parsley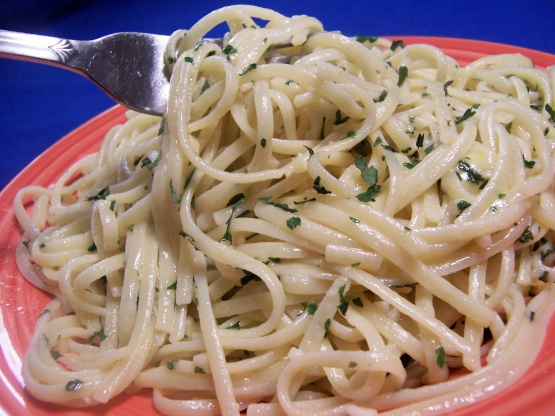 Simple, quick and easy comfort food.

Enjoyed the mild and creamy flavor of the cheese with the garlic. I'd suggest going lighter with the garlic so it does not overpower the dish. Made for the *Recipe Swap 14* game 2008 in the Aussie/NZ forum. Our group was *The Kumara Kids* Group 28
Cook pasta according to package directions. Meanwhile, melt the butter in a small saucepan over low heat. Reduce heat to a simmer; stir in the garlic. Cook, stirring occasionally, until garlic releases it's flavor, about 10 minutes. Don't let the garlic brown, keep the heat low.
Drain pasta; place in a mixing bowl. Toss with the garlic butter until pasta is well coated. Add cheese and parsley and toss until combined.